DA LAT MASSAGE - CLOVER SPA
12.08.2022 - Da Lat is famous for the city of peace and romance, where we put our worries away and enjoy the little joys. In addition to having fun and experiencing beautiful scenery, Massage Da Lat is one of the places chosen by many people to relax and reduce stress.
---
Why is Clover Spa always a priority, the most popular destination in 2022? To answer this question, there are some massage reviews about Clover Spa.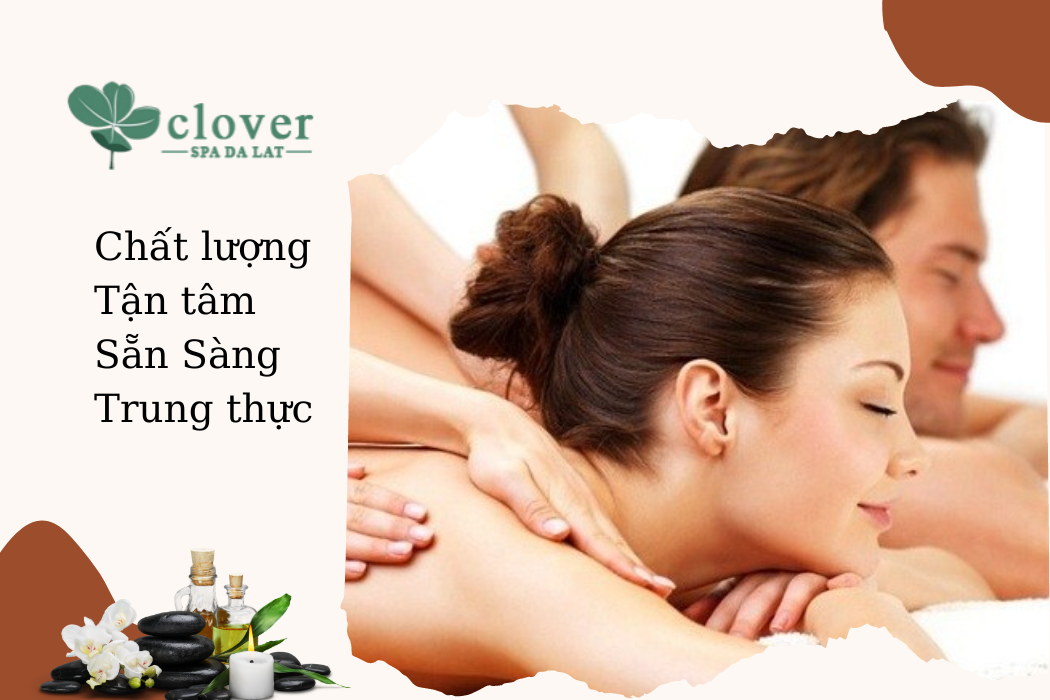 Meaning of Clover Spa
Meaning and 4 criteria of Clover Spa - Da Lat Massage
As a big fan of Spa, you must be wondering why Clover and not another name. Let's answer your questions.
That's right, Clover is the image of lucky grass with the wish that the best things will come to Clover Spa's customers - healthy massage. With 4 lucky leaves are also the four criteria of Clover Spa for you, these are quality, dedication, readiness and honesty.
In addition, Da Lat Massage - Clover Spa with the main color of yellow will create a feeling of warmth and comfort as well as our affection and devotion for you. The space is newly designed with colorful lanterns bringing a bit of nostalgia, a bit of calm, a bit of ancient Hoi An. This is also the place where many young people take pictures to check in to keep their memories together at Da Lat Massage - Clover Spa.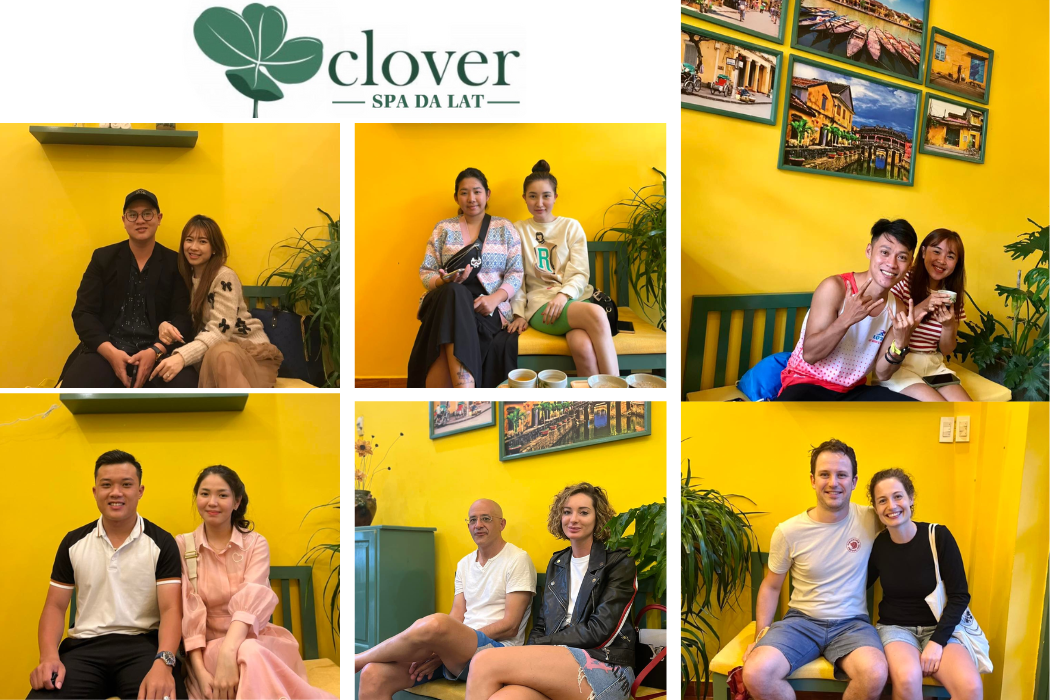 The smile of customers at Clover Spa
Goals of Clover Spa
Unlike many other spas, Clover Spa not only wants to attract more customers to come and return, we also want to give you the best value.
Massage Dalat - Clover Spa always provides the best and latest Da Lat Massage services. It not only helps you to relax comfortably, but it can also improve your health and body shape. With this goal, Spa has been the most prominent among the Da Lat Massage Spas and it is the first name remembered in the mind of customers.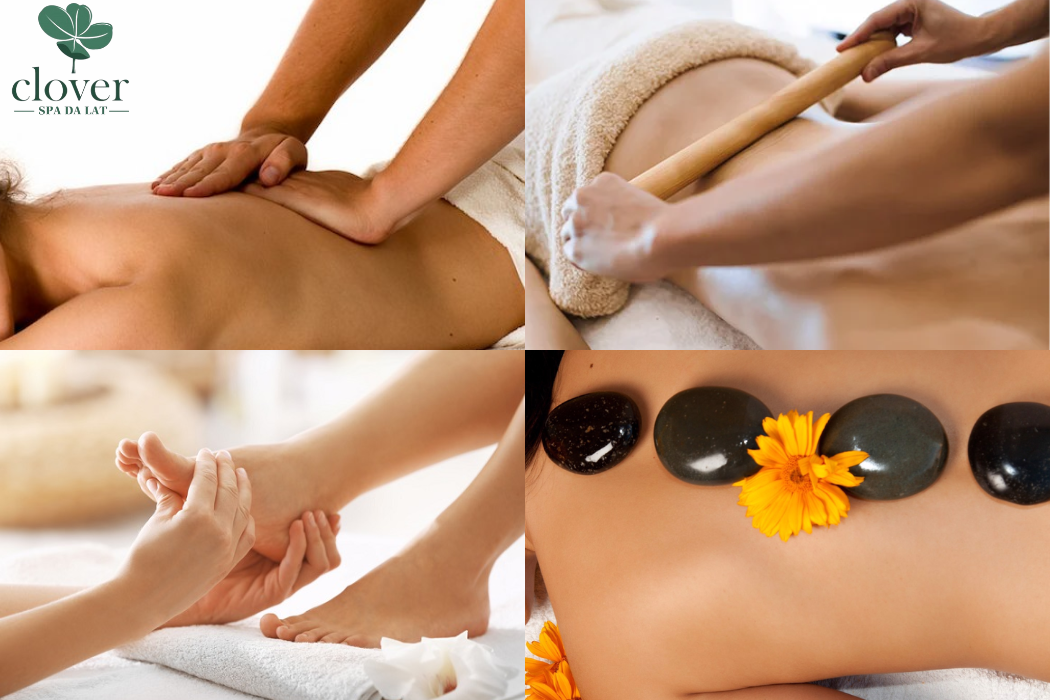 Services at Clover Spa
Services at Clover Spa - Massage Dalat
Services from Clover Spa are solutions to help you relax combined with therapy that bring new effects and uses for you.
Foot reflexology massage helps relieve headaches, shoulder and neck pain, ..
Cactus massage with skin-restoring effects.
Thai massage combined with yoga and acupressure helps the body stay healthy and reduce stress.
Pregnancy massage helps to ease the pain of pregnancy, reduce stretch marks and stabilize the baby's weight gain.
Body massage helps to relax and relieve pain effectively.
Acupressure massage supports the treatment of bone and joint diseases.
Hot stone massage combined with herbal bags strengthens the immune system and supports insomnia symptoms in the elderly.
Bamboo tube massage helps to relax, relieve stress and pain effectively
Traditional massage combined with Lotion helps blood circulation and relieves muscle tension.
Four Hands Massage helps to increase blood circulation and improve physical condition.
Aromatherapy helps reduce stress, restore and relieve symptoms of dementia.
Intensive facials and treatments for healthy and shiny skin.
A full body brightening treatment to help you achieve a radiant look.
Clover Spa always provides and updates the new and best massage treatments in Dalat.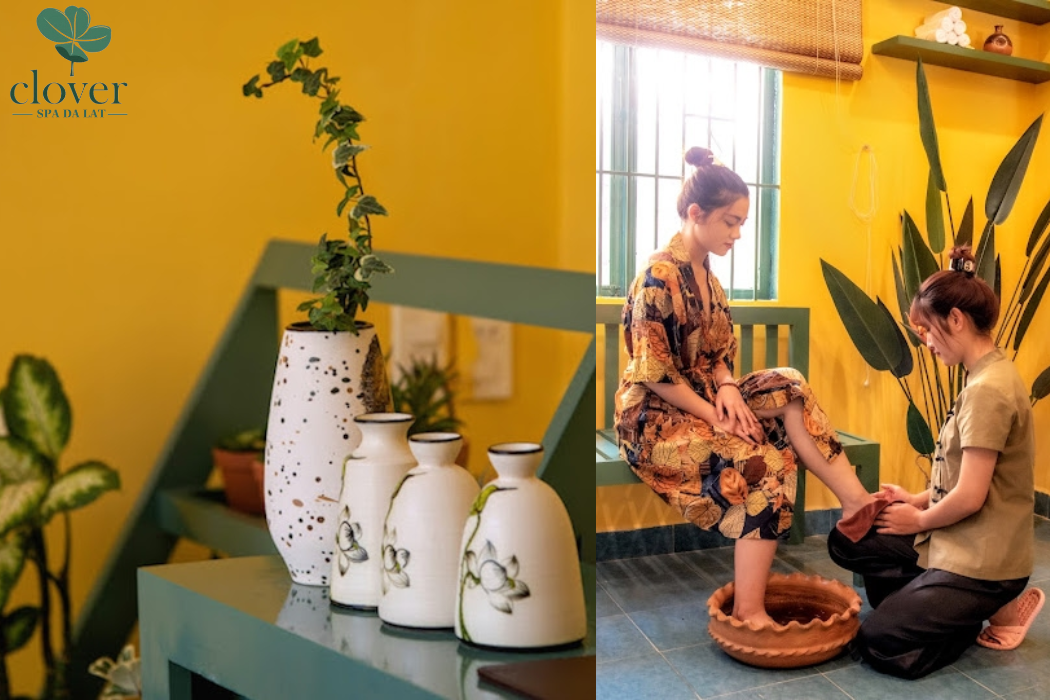 Customer service staff at Clover Spa
Dedicated staff at Clover Spa
Professionally trained staff with many years of experience and techniques will bring you the best quality of service. Moreover, you will be answered your questions very enthusiastically before and after experiencing the service at Clover Spa - Professional Massage. Always listening and understanding you is the destination that the team always strives to achieve.
Frequently asked questions when coming to Spa
Below is a summary of the most frequently asked questions when customers come to Clover Spa.
Clover Spa opening hours
Clover Spa is always ready to serve you from 9am to 10pm every day including holidays.
What will I get if I join the spa treatment?
You will first receive dedicated advice about the problem or condition you are facing. We will provide advice as well as the most suitable treatment for you to quickly remove your worries. In addition, you will receive many attractive programs at Clover Spa.
You will have the best relaxation with the best services at Spa. These treatments will help you support therapy and reduce stress effectively.
Where can I book an appointment?
You can contact us directly for consulting support and book an appointment via the website or:
Facebook fanpage here
Hotline: 093 545 00 89
Email: cloverspadalat@gmail.com
Địa chỉ: 27/5 Hai Bà Trưng, Phường 6, Đà Lạt
Conclusion
Some detailed information about the best quality and most prestigious Dalat Massage - Clover Spa is mentioned above. Hope to always bring you the most satisfaction and restore your energy to continue the road ahead.
Clover Spa Find A Peaceful
---
See more :
What is a Spa ? – How Benefits For Health